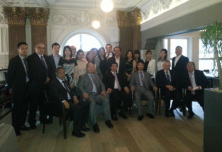 The International Business Festival (IBF) is a flagship event organised by Liverpool City Council, Liverpool Vision; supported by a variety of both public and voluntary organisations, and some of the leading national corporations. The IBF runs for 50 days of business venues and conferences including over 200 focused business shows and events June - July 2014. It is anticipated that IBF will general £100 million direct inward investments.

One of the key sponsors of IBF is Peel Holding plc. The Peel Holding's International Trade Centre in Wirral is due to be operated at the end of 2015 and early 2016. This is a significant investment over £250 - 300 million between Peel Holding (UK) and Samwa Group (Shanghai) and Jiangyin City (Jiangsu Province) which will house 250 business units consist of high-ended enterprises: media, advertising, creative digital industry, tele-communication, auto-mobile, solar and renewable sustainable energy, education etc. The trade centre is targeting overseas Chinese business to use the facilities and mark North-west England as their business hub.

The Liverpool Chinese Business Association has established links with various parts of China and we have formally linked with Jiangmen Provence of PRC. LCBA believes the International Trade Centre will be a significant drive for trades between UK and China and we have been working alongside with Peel Holding to support their development of the complex by promoting the benefits to our business associates in China.

To celebrate both the International Trade Centre and the IBF, LCBA organised an overseas Chinese investment delegation from Zhengzhou (Henan Province) and Chengdu (Sichuan Province)in conjunction with our local business associate Mr Zhu in Mr Chili Chinese Restaurant.

Mr Simon Wong, Chair of LCBA, said 'We are very delighted to have the opportunity to introduce Liverpool for business investment. The City has a long history for trading oversea and we hope this visit will inspire their confident to choose here for their future business venture.'

Mr Alan Seatwo, Chief Co-ordinator of LCBA added, 'The IBF is an ideal opportunity to showcase the business potentials within and beyond the City of Liverpool. We are grateful that three business organisations: Federation of Small Businesses, Liverpool BID and Muslim Enterprise Development Services have joined our effort to welcome the delegation. The dialogues between all parties have been very positive and it is likely that they will return to Liverpool very soon.'

The Zhengzhou delegation had invested locally in China for land that their development group turned these lands into shopping malls, student quarters and housing properties. Mr Zhang Zhao, Lead of the delegation, was very impressed with the reception and he said, 'We have already travelled from London to Scotland. When we come to Liverpool, we are thrilled by the friendliness that came across from each of the person that we meet in Liverpool. It is truly a friendly city. Although we can only have limited time here, this is one of the places that we would like to return soon.'

The organisation of such delegation has gained a positive outcome: a member of the delegation had indeed invested in a Chinese restaurant in Liverpool and some of them will be returning in September for further business investment exploration.

Apart from the organisation of the delegation, LCBA also took part in another IBF event during the China Weeks. Mr. Brian Wong, Hon. Advisor, supported the FSB by participating as a subject matter expert in a panel session of Small Business Summit 2014. The session was to look at how small business owners can make the most of markets in China, considering business related issues as well as cultural and other practical issues etc.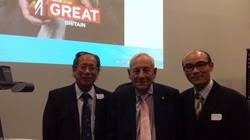 At the event, Philomena Chen of United Kingdom Trade & Investment (UKTI) and Jessica Zheng of China-Britain Business Council (CBBC) were also present to provide their expert advice.

During the discussion, Mr. Brian Wong welcomed the current initiatives that are offered by national agencies but he also highlighted the market needs a variety of provisions especially vital roles that community based business organisations are providing. For example LCBA previous contributions towards trading with China: establishing landmark in Liverpool to symbolise out tie with China, providing language services to Caldeira – the Cushion Factory, assisting Halewood International to market their drink product 'Red Square' Shanghai and Guangzhou, supporting the Shanghai Expo 2010 and assisting a number of small businesses trade in China etc. Businesses could be further supported by utilising the indigenous Overseas British Chinese Diaspora whose strength, network and insight knowledge of the mother land.

To sum up our reflection so far: Today's IFB has shown every business is operating in an global environment. Considering the growth of China's economy and its impact across the globe, it is very clear that China has already established itself as an major international market powerhouse. It offers enormous amount of opportunities no one can afford to ignore.

The good news is that the Chancellor George Osborne announced IFB will return to Liverpool in 2016. Now get ready for IFB 2016!